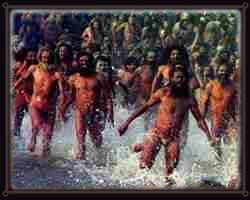 Kumbh Mela is one of the hallowed festivals of India and is organized at a big scale. According to the scholars, it is believed that when Gods and demons were having fight over the nectar then Lord Vishnu flew away with the pot of nectar spilling drops of nectar at four different places; where we celebrate Kumbh melas, those places were Hardwar, Nasik, Ujjain and Prayag.
The celebration of Kumbh Mela depends on the position of Jupiter (Brhaspati) and the sun. When the Sun is in Aries (Mesh Rashi) and Jupiter in Aquarius, it is celebrated in Haridwar. When Jupiter is in Taurus (Vrishabha Rashi) and the Sun is in Capricorn (Makar Rashi), then kumbh is celebrated at Prayag. Mela is celebrated in Ujjain when Jupiter and the Sun are in Scorpio (Vrishchik Rashi). It is said that when the Jupiter and the sun falls on the zodiac sign, Leo; then Kumbh Mela is celebrated at Trimbakeshwar in Nasik. Kumbh Mela is celebrated with great pomp and show, crowd gets crazy and scenario of the fare is breath taking. Devotees congregate and perform several rites and rituals. Numbers of ceremonies are performed like religious discussions, devotional singing, mass feeding of holy men and women and poor, out of which bathing is considered as most sacred and takes place at the bank of river in every town, where Kumbh is celebrated.
Kumbh Mela Celebrations At Trimbakeshwar
Kumbh Mela is celebrated at Trimbakeshwar in
Nashik
which is in Maharashtra. Trimbakeshwar is a holy town of Nasik as one of the twelve Jyotirlingas, Triyambakeshwar Jyotirlinga temple is situated there. Kumbh Mela in Nasik is celebrated once in every twelve years and is known as Sinhasta.
According to mythological stories and verses of epics the drops of Amrita or nectar fell at the Godavari River in Nasik when Lord Vishnu flew from earth to heaven after Samudra Manthan. That is the reason why the place is considered sacred and is of great importance amongst Hindus. In the lunar month of Magh when Sun and Jupiter are in Leo (Singh Rashi) zodiac sign Kumbh Mela is held at Trimbakeshwar in Nasik. The fair is celebrated with full passion and keenness in Nasik as one can evidence and about millions of pilgrims come here to wash away their sins in the holy river, Godavari. The two bathing ghats, Ramkund and Kushavarta holy reservoirs appreciate faith and belief of thousands of sadhus, holy men and millions of pilgrims as they take dips in holy River Godavari on the specific date and at specific time. As the administration is aware of the dates they start arranging accommodation facilities for the pilgrims who comes from all walks of life. The panorama of this festive season is worth watching.
Nasik Kumbh Mela Dates
As Kumbh Mela is celebrated in every twelve years in Nasik; last time it was celebrated in 2003, which resulted into an incredible festive season for the people of Maharashtra in particular and people of India in general. People get away from their routine schedules and experienced spiritual ecstasy during Kumbh days. In 2015, Nasik will again get an opportunity to host guests from every spot of the country and from all walks of life as Kumbh Mela will be held in Nasik from July 14 to September 25 of that year.
Nasik Kumbh Mela Schedule of Events

14th July 2015 (Tuesday): Flag hoisting of the main ceremony at Ram Kunda
14th August 2015 (Friday): Flag hoisting of the Akhara at Sadhugram
26th August 2015 (Wednesday): Shravan Shudha- First Snan
29th August 2015 (Saturday): Shravan Purnima - First Shahi Snan at Ram Kunda
13th September 2015 (Sunday): Bhadrapad Amavasya - Second Shahi Snan/ Main bathing day
18th September 2015 (Friday): Bhadrapad Shukla Panchmi (Rushipanchami) - Third Shahi Snan
25th September 2015 (Friday): Bhadrapad Shukla Dwadashi - Vaman Dwadashi Snan